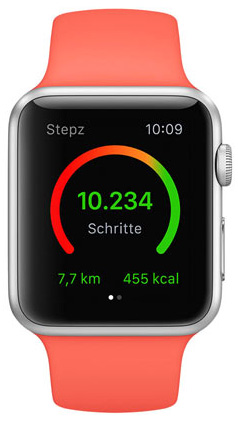 App developer life achievement unlocked: The Stepz App has been featured on Apple.com!
Alongside other great apps, Stepz is showcased on the page that explains the health aspects of the Apple Watch for Germany, Italy, Spain, France and Russia.
While the Apple Watch has many amazing features, fitness & health are certainly amongst the main reasons people get the Watch. Being mentioned as one of the apps that makes buying the Watch worthwhile is a great honor, especially for me as a small indie app developer.
Stepz for Apple Watch aims at delivering your most important activity information at a glimpse of an eye. While the app is in no way perfect, we take being featured on Apple.com as a great motivation to improve the app even more in upcoming updates and help our users live a healthy life by motivating them to walk more throughout the day.